Emily Armstrong, Master Art & Design (AUT), Bachelor Media Arts (Wintec), Diploma Photography (Whitecliffe College of Art & Design)
I started The Pencil Room because I enjoy bringing art into people's lives. I share what I know, about what I love, in a way that does not dictate but instead enables you to develop art skills and find your own style.
I love the simplicity of drawing. When I teach drawing I am always working to bring about that moment of clarity and satisfaction a person has when it all clicks and they start to really see their subject.
I strongly believe that art doesn't need to be serious, it can be simple and playful. Making art can be fun, challenging and therapeutic and it can change the way you see the world.
Emily works in a wide range of media including painting, ceramics and installation. She has been a finalist in notable national awards such as the Wallace Art Award and the Molly Morpeth Canaday Art Award. She has a Master of Art & Design from AUT and has over 10 years experience teaching children and adults, including teaching art at tertiary level at Bay of Plenty Polytechnic and Whitecliffe College of Art & Design, Auckland.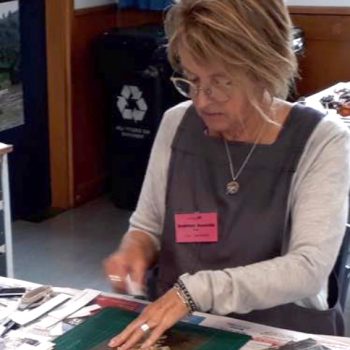 Gretchen Buwalda, Diploma of Teaching (Ardmore Teachers College), Display and Advertising Certificate (Waikato Polytech), Diploma of Creativity (The Learning Connexion)
I love sharing my enthusiasm for art and thoroughly enjoy specialising in art with primary school age children.
All young children naturally enjoy creating art, right from their first scribbles as two-year-olds. They thrive on the opportunity to explore and create. They can master a range of skills and techniques that build both their confidence and their ability to express themselves.
I believe that children should be free to create. My aim is to work with them, guiding and encouraging them, so that they can achieve something they can be proud of.
In her own art practice Gretchen works with a wide variety of media and techniques, including painting, printmaking, encaustic and fibre arts. Gretchen is a qualified primary school teacher with over 30 years experience. She has specialised in teaching art to children between 5 and 10 years old for the last 12 years.